My previous post took you through a homestay, Treasure Trove, in Wayanad. You may want to read that post here.
Exhausted by travel through the winding ghat roads, we finally reach Oyster Opera at Padane in Kerala. Before we reach the place, our car runs parallel to the interesting backwaters of Kerala. This is a natural phenomenon which is intriguing and beautiful. As we arrive at Oyster Opera, we are nudged on to the eating area. Lunch was being served and hungry as we were, we washed our hands and sat down to eat. In Kerala, they offer you a warm jeera water (brown-tinged cumin water) which is a digestive and is drunk as common water. It gets some getting used to or not. My kids refused to drink it. So they were offered normal water.
The meal is served on a plantain leaf and is substantial. This place is a haven for seafood lovers. They generously serve you fish at every meal. So we got a fried fish which was delicious. There was also kappa (tapioca) served with a tangy fish curry. The fish served each time was whole fish and it was karimeen. It was delicious. There were the same thick grains of rice that were served with sambar, rasam and curd. There was an assortment of veggies all cooked in coconut-based gravies. Overall, many food items served with a smile. The food rounded off with steaming hot payasam made with jaggery and lentils and helpfully given in cups to drink. The only thing to watch out are the crows who are in substantial number here. They swoop down and take away the fish from your table. And they choose their targets wisely often focusing on children.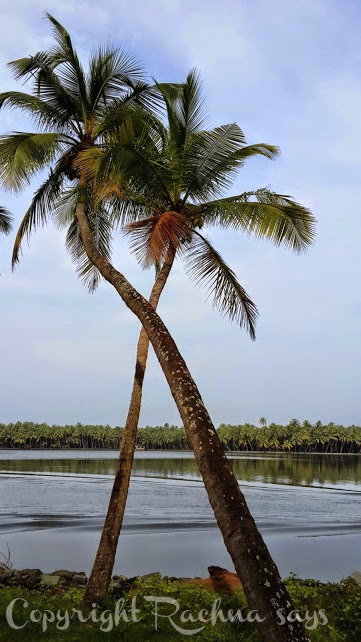 Our hunger pangs silenced, we drank in the beauty of this place. We were right on the edge of the backwaters. There are 9 cottages here that are pretty spartan and all named after seafood. We were staying in Shrimp which was a bit small for our needs. We were offered another cottage with 7 beds which we refused because it just seemed too big and even more rustic. The cottages are very basic. They have a bathroom which is open to the skies. It was a weird experience bathing that way. The cottages smelled a bit musty. They certainly must work on a slightly better upkeep. We kept the windows open to bring in some fresh air. The place can get really humid.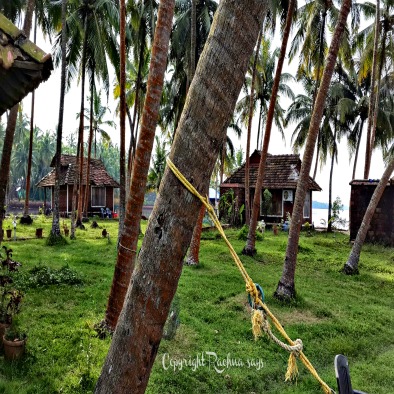 The highlight — open the door of the cottage, and there are the backwaters. You can just lie down in the hammock gazing at the quiet waters that has coconut trees framing its edges as far as the eyes cansee. In the mornings or evenings, one could see small fishing boats in the waters. This really is a great place to just laze around and take in the spectacular natural beauty all around you.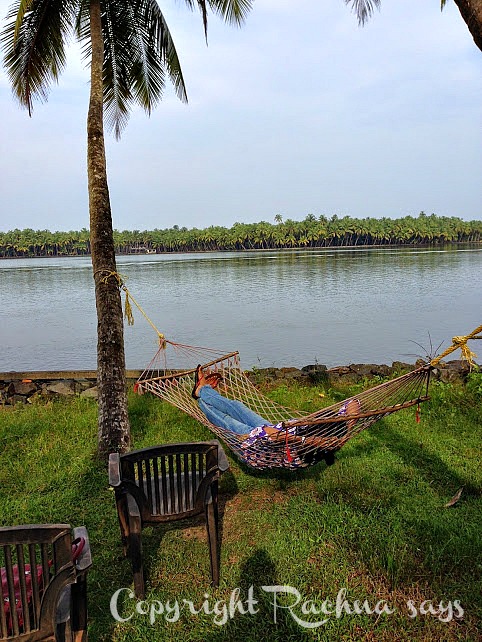 They have a number of activities that keep you engaged. In the evening, we got a boat ride that took us to a beach. Yes, the sea is very close to the backwaters, just separated by a tiny patch of land in the middle. This beach is pristine and sees no other tourists. The boatman who spoke only Malayalam takes you for a long boat ride and leaves you to enjoy the waves and sunset. After almost half an hour, we head back to the resort. Since the lighting is low, as night falls, there is not much of walking around or exploring that one can do. It does get a bit cool at night. The dinner is again delicious with a great choice of seafood. We had fish, prawns and squid along with the other vegetarian options.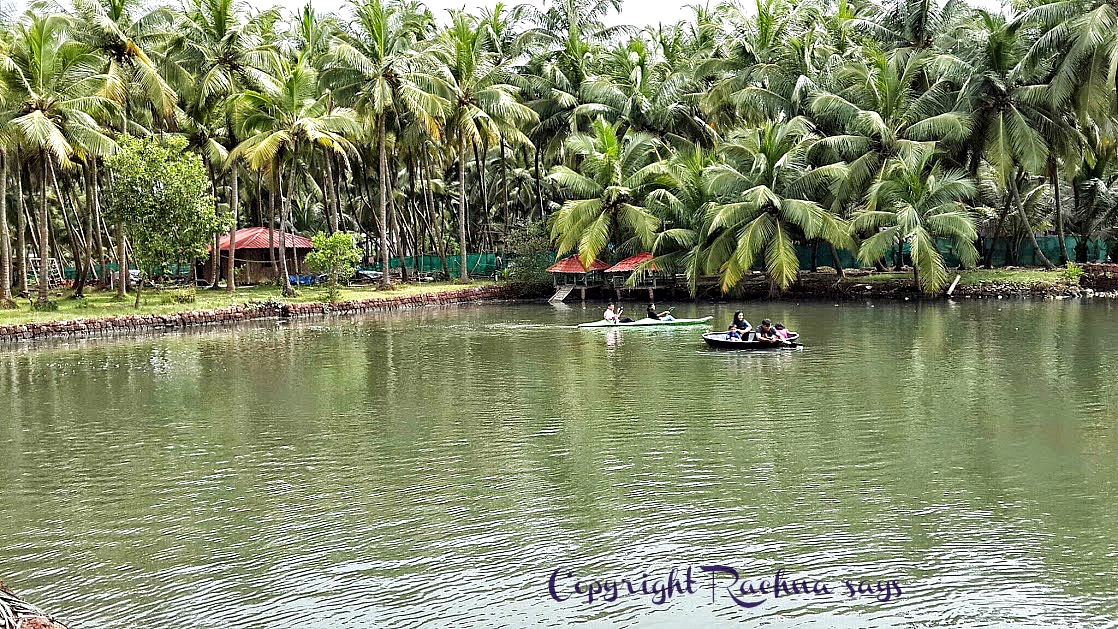 The next day also has some fun activities lined up. There is another boat ride to another beach but this time it is the estuary. This is where the backwaters meet the Sea. It is lovely as you watch the transition. We were also given a tour of the mussel farms on the way back. In the afternoon, we were taken by the boat to a spot in the backwaters, which is shallow and asked to jump in. Yep, it feel funny but you just jump in. We all got in and splashed around. The water is salty just like seawater. The kids really loved it here. Then when you are done, you climb back into the boat. It was a lot of fun. We also did some canoeing in one of the shallow backwater pools. That was lovely too.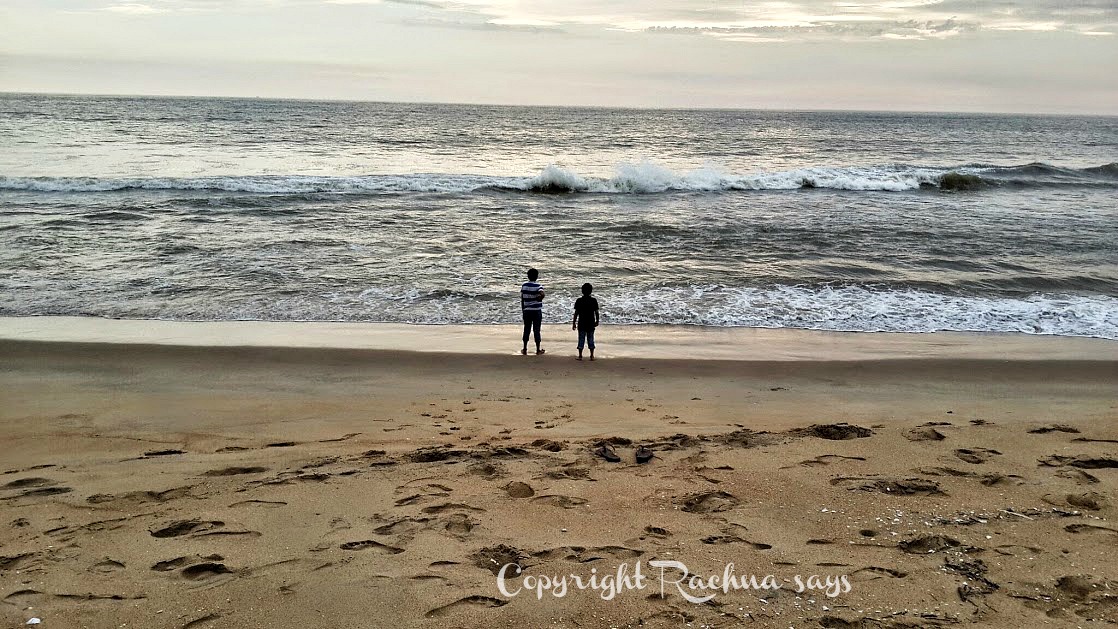 Overall, living in these pristine surroundings was spectacular. Water, coconut trees, a very friendly owner named Mr. Gul who charmed us with some lovely tales from his own life and of the area. If you love being within reaching distance of water, this is for you. Still not crowded with tourists, it is a great place to unwind and just keep staring at a distance for hours.
Next day morning, we started back to Bangalore, which was going to be a long trip. There are many routes that can take you back to Bangalore. This is the route we took after much research and it was quite good. We arrived back home just before nightfall.
All we needed was to get Coco from the boarder's. The trip that started so precariously ended up rather well.