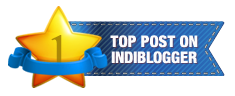 I am lucky to be living in Bangalore where we experience beautiful weather almost throughout the year. Yet, monsoons have an unmatched charm even for me. Watching the rain pitter patter down, sometimes a slow drizzle and at other times pouring its heart out is a strangely soothing experience. There are times, when I pick up my laptop and sit in my balcony watching the rain provide the perfect backdrop to my thoughts as I work. Yes, I know that rains can create issues like traffic snarls and rivers on roads, but luckily I work from home. Hence, I truly enjoy the beauty of monsoons, its calming effect with the green carpet that it leaves in its wake.
A perfect monsoon day would be one where I could wake up late and curl up in a comforter with a book to read. Seriously, what can be more blissful than that? Oh yes, some good food is always welcome for company. Since the slightly chilly weather calls for it and because I don't need an excuse to have coffee, I use my Morphy Richards coffeemaker to brew that perfect cuppa.
As the aroma of freshly brewed coffee percolates through the house, I am tempted to fix a tasty yet filling snack like a sandwich using my easy-to-use Morphy Richards sandwich maker and grill. Another favorite of mine is masala chai and pakodas, but these days I generally avoid fried foods often.
Catching a movie on TV is another favorite way of spending a rain-washed day. Of course, that has to be accompanied by home-made popcorn and masala chai or coffee depending upon the mood. Playing loud music and singing along especially romantic rain songs are also very high on the list of things I do on a rainy day.  Rains cheer me and bring my crazy side to the fore.
And evenings, I help my son float paperboats in the puddles created by the rain. Oh, what fun that is! Kids everywhere love rains. The potential for mischief reaches the sky for them. I also love going for my brisk walk outdoors when the rains have ceased and the firmament is sparkling and beautiful. The sparkling green soothes the soul and the dark skies sometimes make for the perfect, breathtaking setting to bring the curtains down on a very satisfying rainy day spent doing what I really enjoy.