European cities are beautiful. A fantastic public transport, friendly people and an unrushed life makes for some great tourist destinations. But Europe is on  edge after the recent terror attacks in Belgium and Paris as is apparent from the large army presence at almost all monuments, railway stations and airports. There is also a raging debate about the refugee crisis as thousands of Syrians, Iraqis and others head to Europe every single day. We saw a bunch of Syrians begging on the streets of Paris so that felt real.  Yes as people go about their normal days and tourists strike happy poses around monuments, there is an undercurrent of apprehension, of doubt over an uncertain future behind the friendly smiles. The 'terrorist' jokes notwithstanding we are all on the edge for sure and the detailed security checks at the airports only make us more aware of the dangerous times we live in.
That said, it has been a dream for me to visit Italy. I personally love Italian cuisine and Italy being home to so much history and culture, it has held special appeal to me to visit. This summer after a truckload of planning and execution, my family headed for our Italian sojourn. Excited about visiting some of the most beautiful cities in the world and partaking of history was something we looked forward to. And our first stop was Rome – the city of history, culture and romance where modern lifestyle blends comfortably with the heritage of the past.
We landed in Rome on a beautiful, sunny evening after having travelled the entire day. One great part about visiting Europe in May, the sun only sets after 9 pm giving you extended hours to stay out and enjoy the various sights and sounds. For a small fee, our young Italian host picked us up in his car. A 20-minute ride with him and we did some getting to know each other. He had never been to India, had not heard of Bangalore. 🙂 He gave us a bunch of tips about which bus to take to the popular tourist spots and how to take good public transport. He also pointed us to some groceries and showed us some non-tourist eateries. We had booked this Apartment through booking.com and it was quite spacious with two large rooms to fit our family and a well-stocked kitchen and washer/dryer. I was planning on cooking with the local produce so that worked perfectly for me. After all Roma tomatoes, artichokes, broccoli and pasta, my heart was doing happy pirouettes.
He left us a bottle of wine and had helpfully shopped for eggs and bread for our breakfast the next day. The Apartment was in a great location being very close to the Vatican and well connected to all the places we wanted to see. It was chilly in the night and the Italians being very conscious of their energy consumption, the heating in the Apartment and all across Rome had been turned off mid April. But, it was cozy with blankets and we slept restfully.
The next day, we woke up bright and early and headed to one of the Bars (neighbourhood milk and sandwich joint) as they call them to get some milk for our coffee. The air was crisp; very few people were out and about.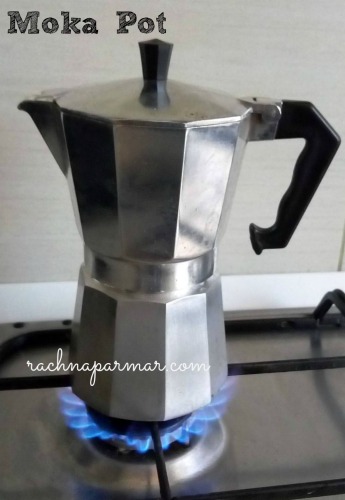 We discovered the Moka Pot, the Italian way of having coffee that I fell in love with instantly. I later went and bought one to carry home to India. Some things that instantly struck me was that a common Italian in the grocery store or on the streets (except the tourist places) had very limited fluency of English. So with gestures and some googled Italian we managed to buy some milk — latte. Ciao and Grazie (thank you) work well. 🙂
The Italians drive very fast so unless you give Usain Bolt a run for his money, only cross the road at zebra crossings when the pedestrian sign is green. Dogs are welcome everywhere and strangely no one picks after their pet. Watch the sidewalks for dog poop. Makes an Indian feel right at home. 🙂 Love for dogs makes me fall in love with any country. On the bus, in the train and everywhere on the streets were these beautiful dogs, elegantly sashaying with their owners, very friendly with strangers and very well-mannered as well.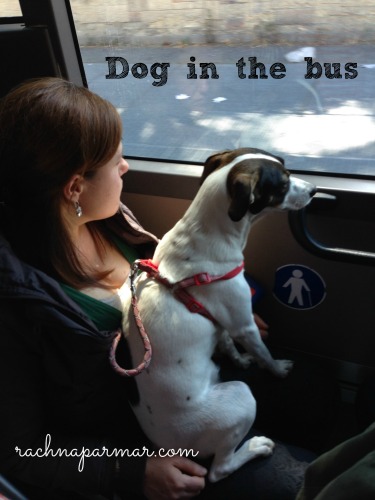 We saw some exotic breeds like this toy greyhound whose owner allowed us to pet him and shared some fun facts about his pet with us.
We also saw a number of desis (people from the Indian subcontinent) running groceries, selling selfie sticks etc. We later found out that they were Bangladeshi (mostly trafficked or illegal who had since been naturalized). Of course when you chat them up they call themselves Indian pretending to be Bengalis. Understandable because a common Italian hardly knows India let alone Bangladesh.
The Italians talk loudly and almost completely in Italian and where they speak English, it is in a charming accent. Oh, and they talk a lot, yapping on and on, very similar to Indians. Mostly when we asked for help, we found them friendly and eager to help. I can't forget the grocery store owner who got up from his place despite a long line to personally get us washing machine detergent that we were struggling to find.
If you take buses, you mostly end up standing all the way unless you climb in at the stop of origin. You cannot buy tickets on the bus and have to buy them in advance from the tobacconists or the Bars earlier mentioned. You have to manually validate your ticket on the bus. And often the validation machine does not work. Rome has a large population of older people or perhaps they were more visible. And one annoying habit is that they smoke. Incessantly. Everywhere. It hurts you especially when you are a non-smoker and when your children gag constantly. There are tobacconists on every street corner who also sell bus and Metro tickets and some sell SIM cards too. When we were looking for a local SIM card, we chanced upon another desi who spoke to us in Urdu. A Pakistani and very friendly and helpful one at that. I have met the best of Pakistanis abroad, very warm and almost cherishing the chance to speak in Hindi/Urdu. Makes one wish that we had more contact between our nations.
I also loved it that they have a lot of dustbins. Such a practical design too and large garbage bins everywhere.
One major grouse is that there are hardly any public toilets. And one has to end up buying a lot of bottled water. At some of the tourist spots there were water fountains. Also be ready to walk a lot. But the most fun part, you will have the most wow moments as you experience amazing architecture at every street corner.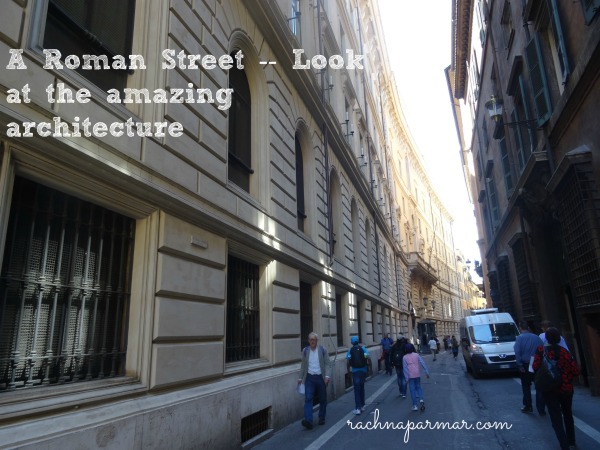 Don't forget to get your daily dose of gelato. We had them everyday and could not get enough of their fabulous taste. And yes, don't forget wine. It is really cheap and delicious. When in Italy, one just tends to have wine with every meal. 🙂 Their cheeses are to die for and olives come in all variety, so very delicious as well. Cheese-tomato sandwiches were our constant companions on our sightseeing tours!
Despite being so touristy, people don't haggle. They explain their stuff (restaurant menu, guided tour) and then wish you a good day with a smile when you decline. So nice, right?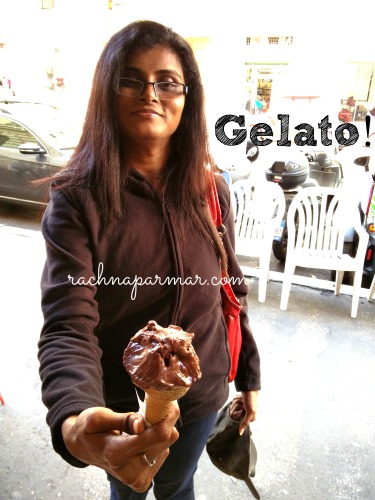 I leave you with this sneak peek of Italy. The next post will explore some of the tourist hot spots of Roma as it is called in Italian and some fun tidbits as well.