Just like all travellers, we had a list of things to experience and do (concentrated around eating) when we visited Rome. The large city is fairly modern with its public transport being easy to follow and use. Each Metro train and bus station has displayed large routes with Metro numbers and bus numbers and their stops printed. As our Italian host jokingly told us that everywhere you dig, you find something of historical value hence there are only two Metro lines in Rome and work is going on the third. So the best way to visit the important sites like Colosseum, Pantheon, Trevi Fountain and others is by a walking tour.
Once you get off at Piazza Venezia, Colosseum, Palatine Hill and Roman Forum are just a short walk away.
You will take an entire day if you wish to see these sights properly. First get your tickets from the ticket window. Don't forget to get the free tickets for your children. Then head to Colosseum. The massive structure greets you from a distance. Even if you have the ticket you have to queue up for metal detectors and the queues can be maddeningly long especially if you don't have a ticket. Most places in Italy, if you take a guided tour you do not need to buy a ticket and you get a swift entry. But they are expensive so plan ahead. Don't forget to haggle to lower the prices. Our Rome card gave us audio guide downloads which were quite handy.
Colosseum is really a large arena or a stadium which is in ruins now as it was devastated by a fire. There are two floors but tourists are allowed only on the first floor. The second floor and basement can only be accessed if you take a guided tour. The steps are really steep so keep that in mind in case you have elders with you or if you have knee issues. I think there is an elevator too. Walk through the corridors. Imagine the days when the kings held bloodthirsty tournaments here. I really must watch Gladiator again. You can walk around reading the plaques and hearing your audio guides and clicking pictures.
Once out of the Colosseum, make your way to the Palatine Hill entry. This vast area is among the most ancient parts of Rome and stands 40 m above Roman Forum. It is believed that there were inhabitants even in 10,000 BC here. A lot of walking here and again get an audio guide or a guide to help you understand.
One funny fact is that there are two ways to enter into the Palatine Hill. One entry is next to the Colosseum which most tourists use hence the queues are really long here.
The other one next to the ticket office is a breeze. That is the one we used and felt smug. 🙂 Don't forget the beautiful gardens on the top.
There are stunning views here and you imagine a time when this place buzzed with Roman Kings many centuries ago. You hear the tales of their grandiose palaces. Of course, since the ruins have been excavated, you cannot really see the grandeur. You also see the Roman Forum which was once surrounded by government buildings in ancient Rome. There is a lot to see here.
As you walk back to the Piazza you come across invisible men.
and even Cupid himself. 🙂
There are benches if you wish to rest.
Don't forget to pop into this Monument called the Vittoriano or Unification Monument of Italy . It has an imposing statue, fountains and a burning flame to commemorate the memory of the unknown soldier. They will not allow you to sit or keep anything on the steps leading to the top. There is a lot of police presence here. Best to get in, look around and come out quickly.
Having spent an entire day with people from many centuries back, we headed back. It was a warm, sunny day. A beautiful day actually and it was the perfect day to be outdoors.
Tips:
Don't forget to buy your skip-the-line tickets in advance online. I have heard that in Italy people offer to queue up for you for a small fee. How innovative!
It really makes sense to have audio guides or guided tour or you will not be able to make out much.
Each of the sights requires a minimum of 2-3 hours of walking so do keep snacks and water handy.
While Colosseum has toilets, the vast expanse of Palatine Hill does not.
Also remember that most entry tickets only allow you one entry so you can't come out for a lunch break and go back in again.
Eating out is expensive in Rome. You will also have to pay or buy something for using the toilet.
You could do a hop-on hop-off pass but most of the buses will only drop you at the same Piazza I mentioned. There are some smaller buses with limited connectivity to the narrow streets of old Rome.
Each building is marvellous so take your time while walking around.
Each sight throngs with tourists. Early mornings are a good time to visit when the crowds are much less.
When eating, walk in the lane to the right of Colosseum and you will find cute pizzerias. Pizzas are cheap and filling and we could not have enough of them as they were sinfully delicious. We loved the Marguerita which is basic cheese and tomato and so tasteful. You also get a lot of vegetarian options in pizzas, pastas, paninis and even main courses. Most of the waiters can pick Indians out. Namaste is what they will greet you with. And then there was this band which serenaded us with Chura liya hai. They got the tune right and a few words too. They addressed us as Vijay and Sunita from the movie. 🙂
Then we discovered this little gem, La Dolce Vita, that serves home made gelato. This lovely Italian mama serves you with love and a bright smile. She gave us three flavours in one cone all for a princely sum of 2 Euros. And she gave some extra ice cream to the younger son. As a matter of fact, almost all gelato places gave him extra ice cream. The perks of being a child, I guess. 🙂
Oh and in many places they charge you extra to sit and eat.
Italy is notorious for graffiti. Everywhere on every conceivable place! Here I leave you with one such. 🙂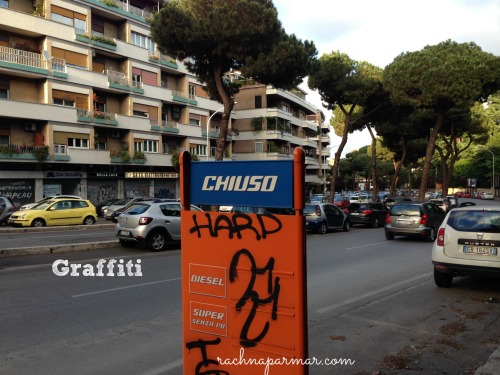 Next post will take you to Pantheon and Trevi Fountain.