Ragi is finger millet that is a supergrain. It has multiple health benefits and is widely used here in South Indian cuisine. You can check out my recipes of Ragi Rotti, Ragi Dosa. Ragi malt is also called Ragi Ambli here in Karnataka. It is made two ways — either salty or sweet. This is a weight loss millet drink that is very healthy. You can have it in place of breakfast as it will keep you full. It is gluten free and very energising. It is also known to have a cooling effect on your body.
Benefits of Ragi Malt
Ragi malt is known for weight-loss benefits. It is high in Calcium, iron, Vitamin C, Vitamin D, dietary fibre and protein. It keeps you full for longer hence is useful in weight management. It is also known to help prevent diabetes.
Hence it makes sense to include ragi or finger millet in your daily diet. I am in awe of Karnataka food where ragi is included in multiple ways in the daily diet.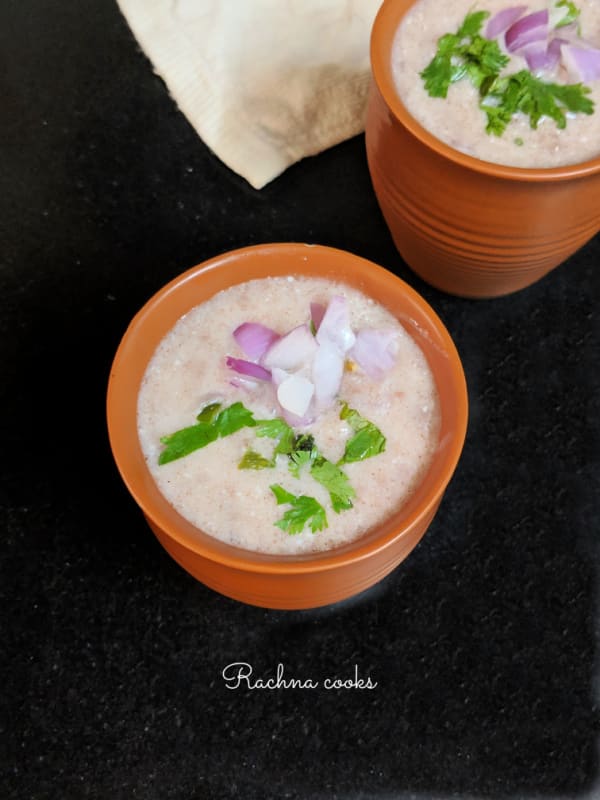 Here's how to make ragi malt:
Ragi Malt | How to Make Ragi Malt
Ragi malt is also known as ragi ambli in Karnataka. It is a super healthy drink that is easy to make. It helps in keeping the body cool and in weight loss.
Ingredients
3

tbsp

ragi

finger millet powder

2

cups

water
For Salty version
1.5

cups

buttermilk

1/2

onion

finely chopped

1

green chilli

finely chopped

1

tbsp.

cilantro

chopped

salt

as per taste

few

curry leaves

chopped
For Sweet version
1.5

cups

milk

2

tbsp.

jaggery

1/2

tsp.

cardamom powder
Instructions
First dissolve finger millet or ragi powder in some water to make a thin paste.

Heat 1.5 cups water. When it comes to a boil, add ragi mixed in water. Cook on low heat for about 3-4 minutes till you get a smooth, glossy, cooked finger millet mix. It turns dark brown in colour. Keep it aside to cool down a bit.
For Salty ragi malt
Add 1.5 cups buttermilk to the cooked ragi and mix well. It should be a smooth, runny consistency and not with lumps. Add salt, chopped onions, chilli, cilantro and curry leaves. Mix well and taste. You can consume it right away or you can chill in the fridge and have. Ragi malt is ready to have.
For sweet ragi malt
Add 1.5 cups cold milk to the cooked ragi. Mix well so that there are no lumps. Now add powdered jaggery/sugar and cardamom powder. Serve cold. Ragi malt is ready to serve.
Recipe Notes
As ragi or finger millet does not have any taste of its own, the savoury ragi malt tastes similar to buttermilk and the sweet one similar to a milk drink.
This method of making ragi malt helps you eat this wonderful millet in a very delectable manner.
Your kids will enjoy having this. 
You can prepare cooked ragi and keep in the fridge. That way you can quickly make sweet or savory ragi malt when needed.
You can skip any ingredient you don't like eg. curry leaves or onions. You can also add other seasoning that you like eg. chopped mint leaves etc. 
Nutrition Facts
Ragi Malt | How to Make Ragi Malt
Amount Per Serving
Calories 203
Calories from Fat 54
% Daily Value*
Fat 6g9%
Cholesterol 19mg6%
Sodium 283mg12%
Potassium 412mg12%
Carbohydrates 29g10%
Protein 7g14%
Vitamin A 795IU16%
Vitamin C 6.8mg8%
Calcium 297mg30%
Iron 1mg6%
* Percent Daily Values are based on a 2000 calorie diet.
Step-by-step Pictures
Dissolve ragi or finger millet powder in some water.
Boil 1.5 cups of water.
Add ragi mixed in water to the boiled water and cook till finger millet mix is well cooked.
Mix buttermilk for savoury version (or cold milk for sweet version) to form a smooth beverage.
Add curry leaves, cilantro, green chilli, onions with salt and serve ragi malt (Add jaggery and cardamom powder to the milk version for sweet ragi malt).
Do make this wonderful and super healthy ragi malt done two ways. Your kids and family will enjoy it.
If you liked this ragi malt recipe, request you to give it * rating either on the recipe or along with your comment. Thanks.
Do share this recipe with your friends.
Pin This